milk frothing jugs/pitcher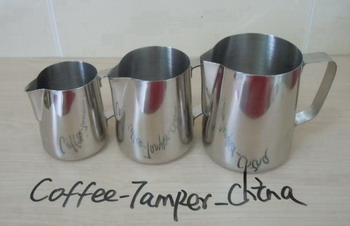 These are the classic milk frothing jug/pitcher as used by barista all over the world.
Each jug is manufactured using high solid quality 18/8 stainless steel, the polished jug has a comfortable handle and the inside of the jug has a brushed finish, also the smooth-pouring spout give excellent control when you make the cappuccino or Latte.
Available in 350ml, 600ml, 1000ml, 1500ml.